17 Aug
We know decorating a bedroom can be a lot of fun for teens.  But it's an ideal project for both parents and teens to work and have fun on together!  Here are 4 steps to decorate a room your teen and you will be happy with.
1. Help your teen define and refine their own style. 
First, you'll need to gather inspiration photos.  You can make a shared board on Pinterest or a physical cork board that mom, dad and teen can all pin to.  Whenever you see a room, a piece of furniture or color you like, pin it!
Once your board is full, sit down together and look for common threads in the photos.  Are there a lot of blues?  Or straight, modern lines?  Talk about what you like best, then use the photos to plan a color palette and a general look for the room.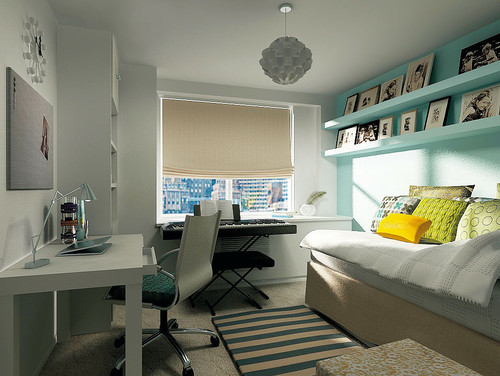 Marie Burgos Design
2. Bring in the furniture.
They'll need a bed and dresser.  Do they also need a desk for school work?  Extra storage?  Teens love having seating, whether it's a small loveseat or just some floor cushions.
Don't forget furniture doesn't have to be new, pieces you already have can usually be refinished with nothing more than some sandpaper and a quart of paint.  Even changing out dresser knobs can make a difference.
3. Make a floor plan.
There are free programs online to help you arrange your room, but personally, I think the old-fashioned graph paper method is the easiest.  Just measure the room and draw it on graph paper, using one square per foot.  Then on a second piece of paper, draw and cut out each piece of furniture you have (don't forget to label them!).
Now you can move the furniture all around the room without doing any actual work (your back will thank you).  Once you have your favorite placement, try it out with the life-sized furniture.
Karen Joy Interiors
4. Accessorize.
Accessories are important to decor, but a common problem that teens have is a cluttered room.  Clutter isn't limited to piles of paper, it can also be too many competing patterns, or too many photographs, ribbons and trophies.
Removing clutter is not all about looks either, as the Princeton Neuroscience Institute proved in a study, clutter has a negative effect on concentration and the ability to process information.  We don't want that for our kids.
So how do you avoid a cluttered look?  Photo gallery walls are always fun.  Help your teen limit the photos to their favorites and keep photos only in that area.  For other items, you could limit display to a single shelf, and your teen can rotate the items on it whenever they feel like a change.
So what do you think?  Is this a project you might try?
Christina Orleans of Little Victorian loves interiors.  She's a recovering cheapskate and loves DIY and upcycling.  Let her help you find your own home renovation projects by visiting her on FaceBook and Twitter.